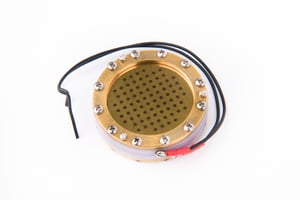 $

428.00
Studio 939 offers premium-quality, hand-assembed capsules for uncompromising microphone builds.
The Eric Heiserman HK12 capsule is a chambered backplate edge terminated capsule modeled after the early type shallow dish AKG C12 capsule. This 100% US made capsule is meticulously hand assembled and tuned and skinned with 6 micron mylar that is gold sputtered to original specifications. Backplates are precision machined and then hand lapped to tight tolerances and fit. Each capsule is then tested in a microphone before shipping to ensure sonic quality and consistency from unit to unit.
This capsule features isolated backplates and is suitable for our C12 kit as well as ELA M251 type builds.
The Eric Heiserman HK47 capsule is a hybrid flat response 34mm capsule based on the Neumann M7 drill hole pattern and utilizes brass retaining ring for the 6 micron membrane. It is hybrid because it utilizes the dual backplate design of the K87 and K67 capsules which allows for better matching of the front and back side membranes. This capsule is suitable for U47 and FET47 applications. It is also suitable for use in any flat response type microphone circuit like our C12 kit.
We hope to make more premium capsules available in our webstore as we test and develop vendor relationships with more manufacturers.