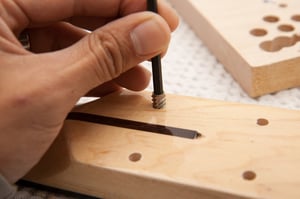 $

7.00
This kit contains threaded inserts and machine screws to retrofit a bass guitar neck joint. Installation of this kit allows more tensions to be applied to the neck joint than the traditional wood screw setup resulting in increased sustain and resonance across the neck.
Kit includes 5 threaded inserts (one spare in case of installation damage) and 4 8-32 oval head machine screws.
A 15/64 inch drill bit is required to enlarge the neck holes for insert installation. A 4mm allen key is also required to install the inserts.